ADVISORY
The University recently decided to return to the elevated phase due to the increase in COVID cases around campus. In addition to the University's posture change, the county has also issued a stay at home advisory due to the number of cases increasing throughout Pittsburgh.
While we are not restricting or changing the opportunities currently listed, we are encouraging all volunteers and partners to take the safest steps forward as we enter the winter months. Please do not host or attend events if you are experiencing any COVID-19 symptoms or uncomfortable being in person.
If you have any questions, email serves@pitt.edu
Welcome to PittServes
PittServes is a university-wide initative that engages University of Pittsburgh students in meaningful service to the community on a local, national, and international scale. Our focus on sustainability, education, and community development allows us to increase student community service and support our surrounding community!
Looking to track your COVID-19 service? Follow the steps below:
Step 1: Visit volunteer.pitt.edu and click "Log In" in the upper right corner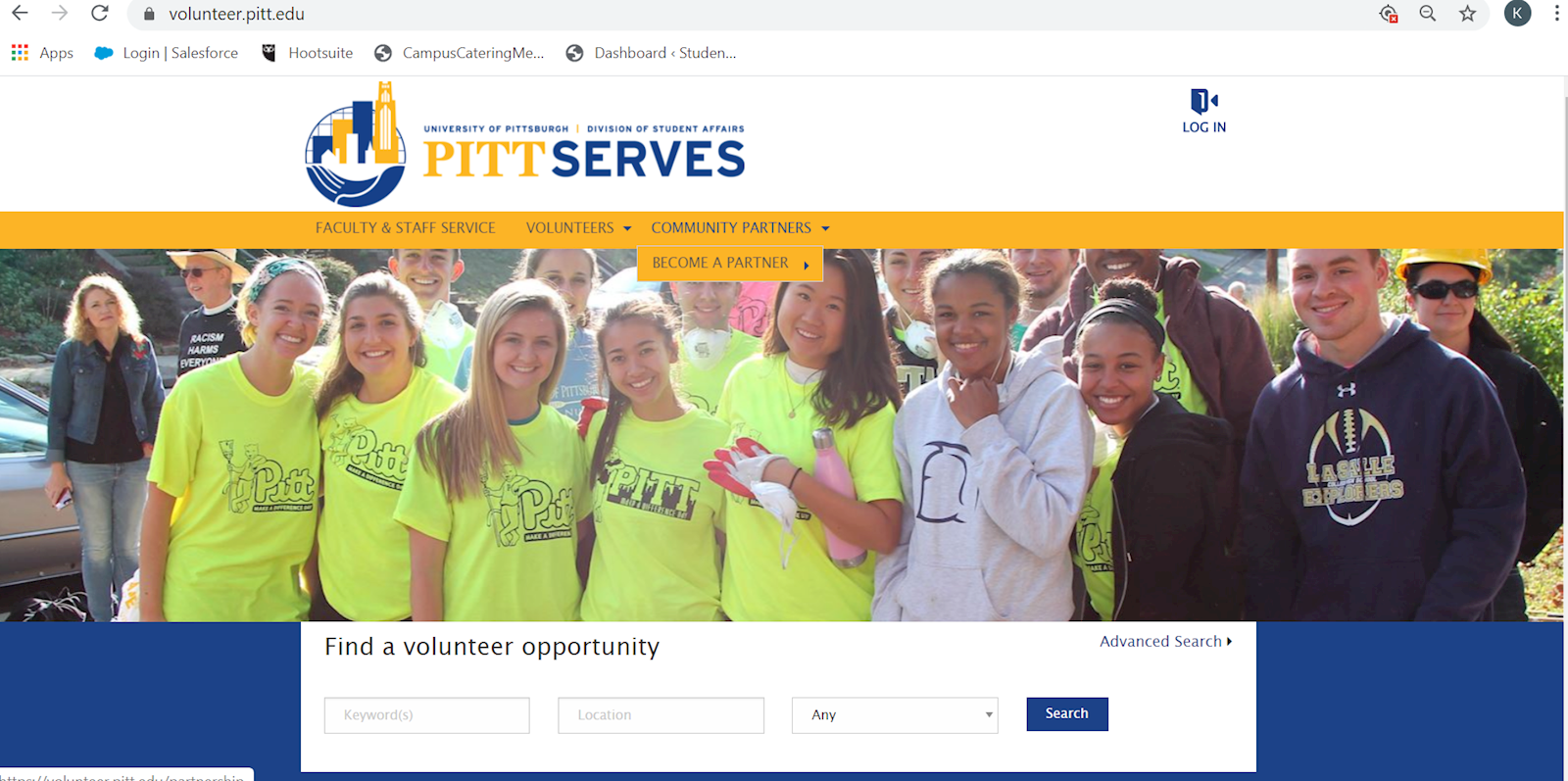 Step 2: and select "Click here to login with your University Passport"
*If this is your first time logging in, please click here to claim your account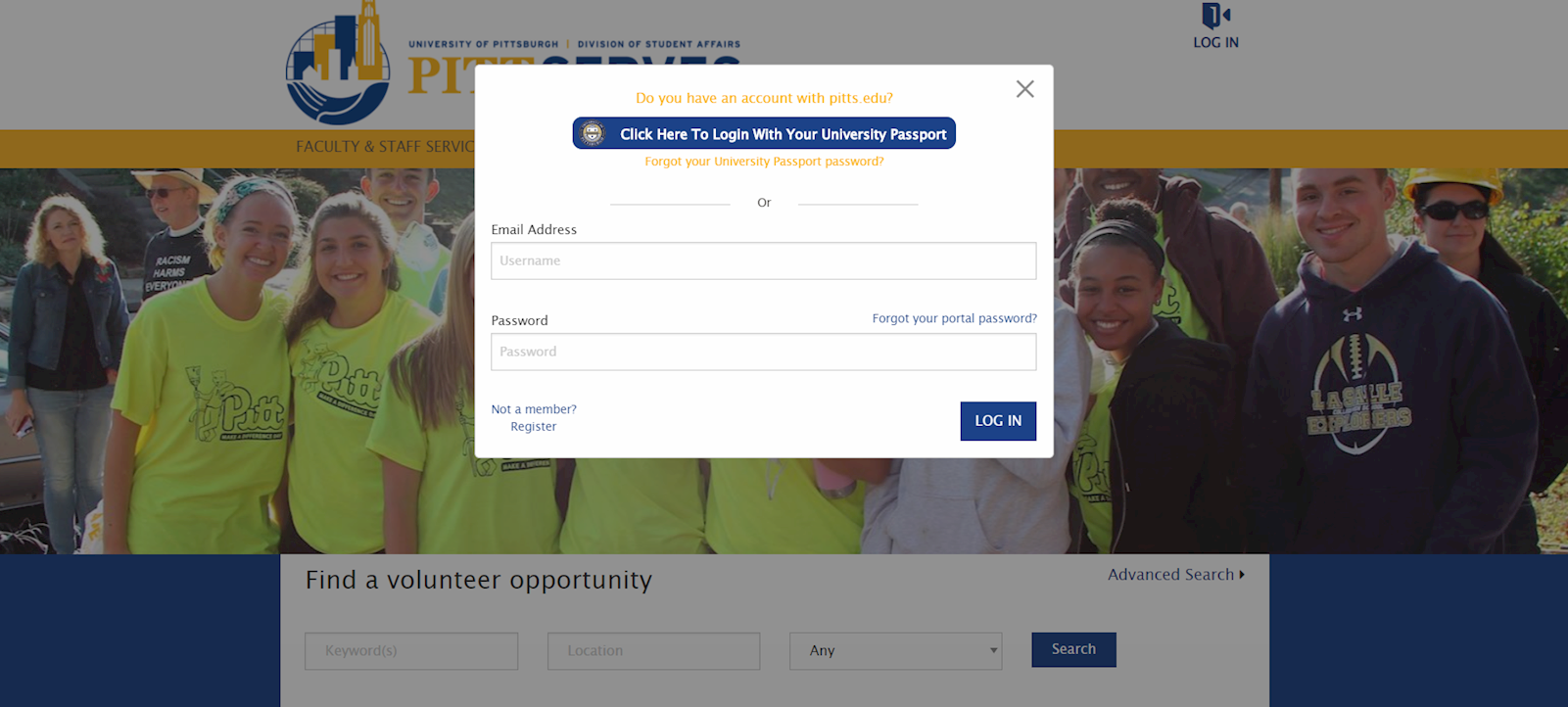 Step 3: Click "Self-Report Your Volunteer Service"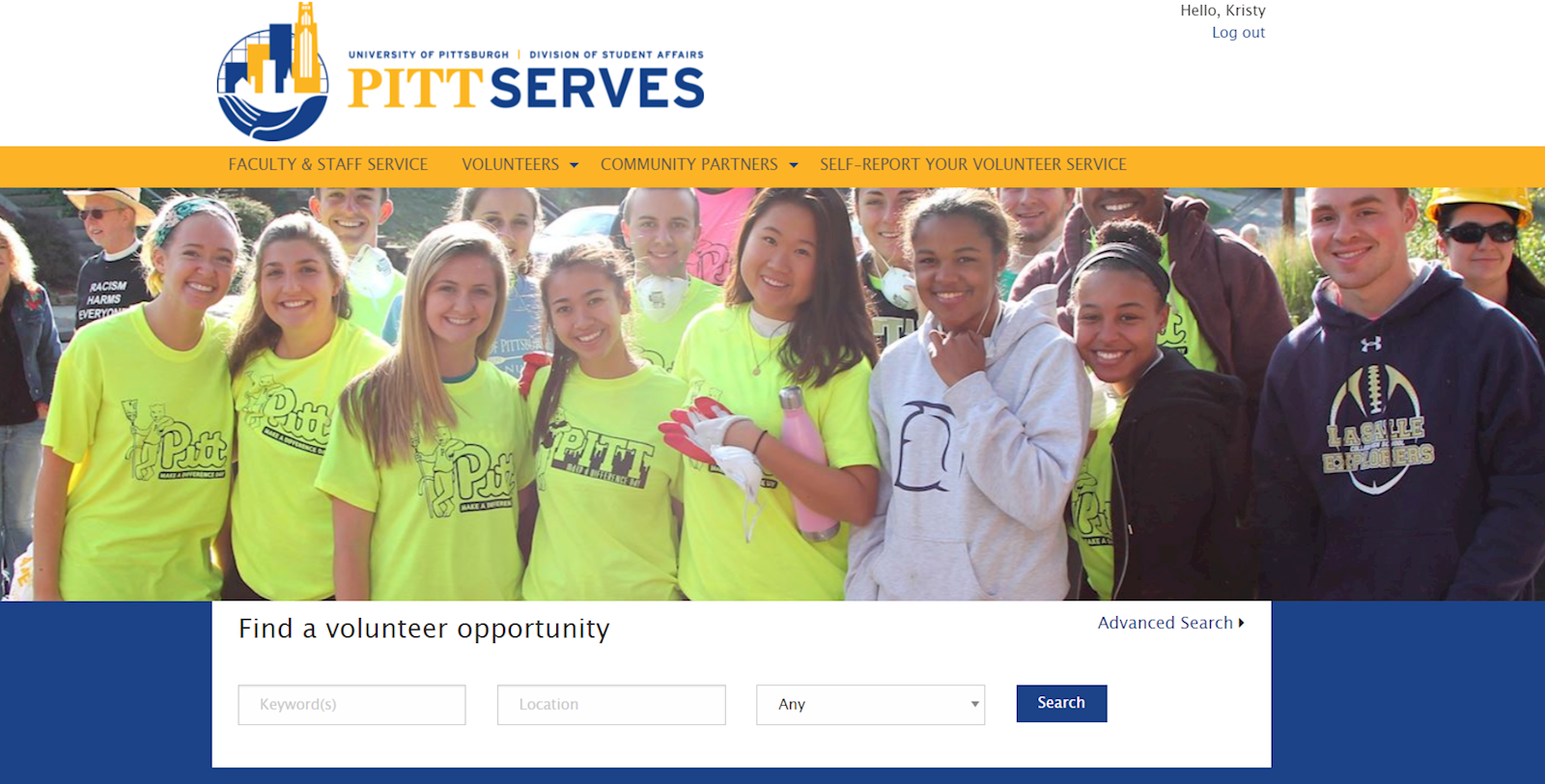 Step 4: To start, select "Community and Government Relations" as the organization and fill out the remainder of the form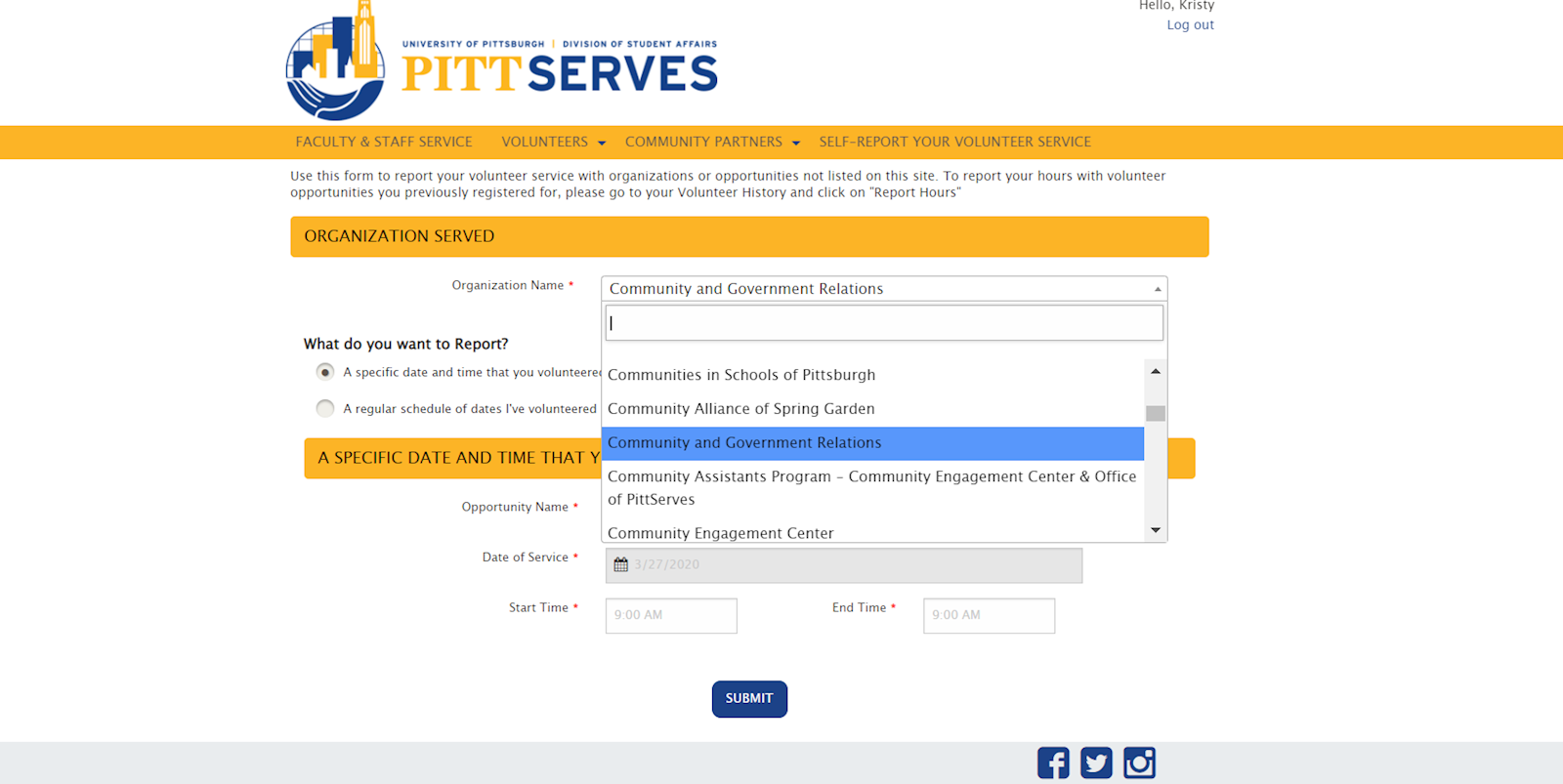 Step 5: Click "SUBMIT"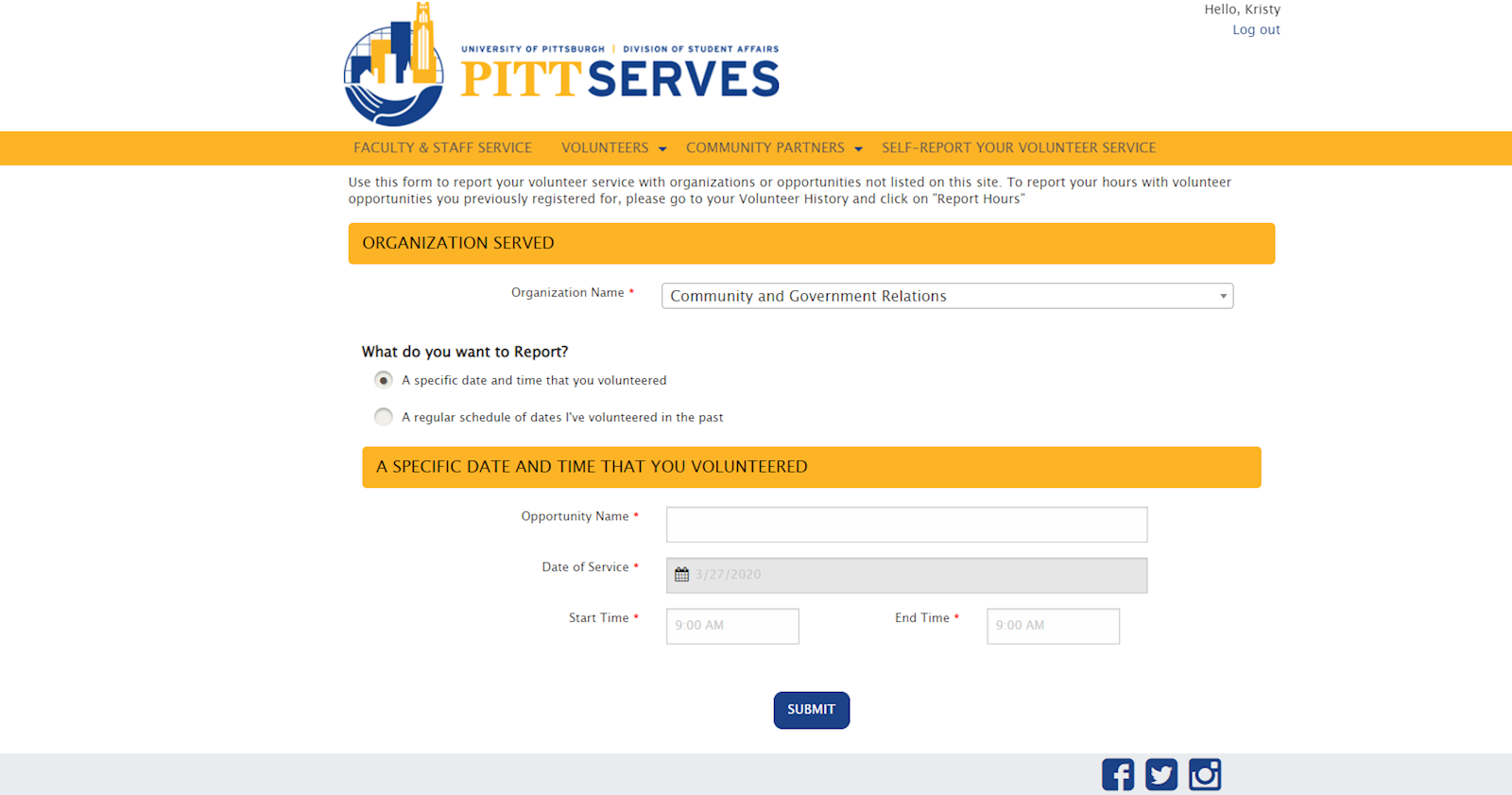 NEW TO THE VOLUNTEER PORTAL?
Click here to learn how to claim your account.
TRACK YOUR SERVICE HOURS
Be sure to track your hours of service through our portal to ensure that you are eligible for OCC credit, earn service recognition, and support the University's efforts to tell the story of service of the Pitt Panthers!
CONNECT WITH LOCAL NONPROFITS
Are you passionate about serving a cause? Trying to find an area that interests you? Connect with agencies to explore or expand your passions. It is easy to find a local group that is dedicated to the issues you are passionate about!